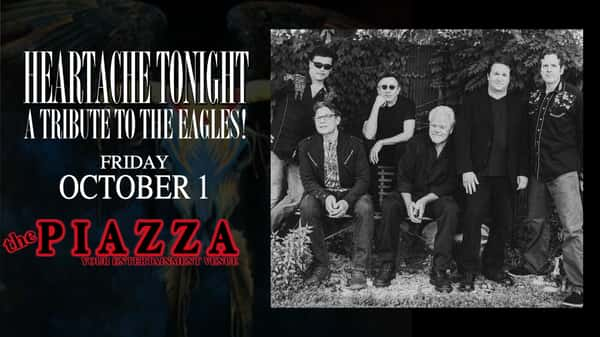 Eagles Tribute - Heartache Tonight at the PIAZZA
The Piazza & NTL Productions present Eagles Tribute - Heartache Tonight Friday, October 1st!
From the powerful guitar duel in "Hotel California" to the shimmering harmonies of "Peaceful Easy Feeling" a Heartache Tonight show is a true Eagles concert experience featuring all the timeless classic songs from one of the greatest rock bands of all time.

With meticulous attention to every detail, Heartache Tonight brings together music from all eras and incarnations of this huge American rock powerhouse that produced hits over four decades.
A Heartache Tonight concert is filled with moments designed to thrill classic rock fans: the soaring a cappella harmonies of "Seven Bridges Road," the snarling guitars of "Life In The Fast Lane," the anthemic country rock of "Take It Easy," and Don Henley's beautifully evocative "Heart Of The Matter."

Get tickets: https://bit.ly/2VM8kKB

Ages // 21+
Doors // 7:30pm
Show // 9:00pm

*Food and drink menu is available from the PIAZZA

*Please note that reserved seats/ tables do not guarantee a server.

#piazzaaurora

***Only purchase tickets directly from our website or the event ticket link. Do not purchase tickets from someone reselling on facebook- it's a scam. 

COVID OPERATING POLICY:
Following state and local officials' recommendations we suggest that anyone not vaccinated wear a mask while attending events at the PIAZZA. If you don't feel or safe or know what to do please contact your physician and come up with a solution that works for you.
GET TICKETS