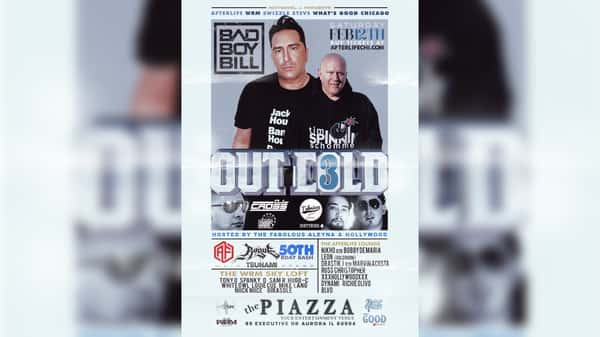 Out Cold Vol. 3 w/Bad Boy Bill & More at the PIAZZA
Out Cold Vol. 3 ft. Bad Boy Bill and Tim Spinnin' Schommer at the PIAZZA Saturday, Feb. 12th

Join us for the 3rd installment of OUT COLD w/ Chicago House Legend BAD BOY BILL!

** Happy Birthday Sam Cervantes **
Main Stage:
Bad Boy Bill
WavePoint (Golf Clap)
Tim Spinin' Schommer
DJ Cross B2B Teknicos
Angel F B2B Rogue One
Tsunami
--------------------------------------
The Afterlife Lounge:
Nikho b2b Bobby De Maria
JL De Leon (Gold Room)
Drastik J b2b Marvin Acosta
Russ Christopher
XXXHollywoodXXX
Dynami
Richie Olivo
Boolivard
Double D
--------------------------------------
The WRM Sky Loft:
Tony O
Spanky D
Sam R
Hugo-C
White Owl
Louie Cue
Vending By Evol Chicago!!

Ages // 21+
Doors // 7:00pm
Show // 8:00pm

Get tickets: https://bit.ly/3fkSgG5

#thepiazzaaurora

COVID OPERATING POLICY: Following state and local officials' recommendations we suggest that anyone not vaccinated wear a mask while attending events at the PIAZZA. If you don't feel or safe or know what to do please contact your physician and come up with a solution that works for you.
GET TICKETS